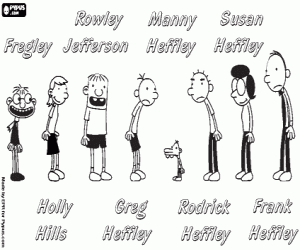 Greg is a regular American schoolkid, experiencing many middle-school troubles  friendships, crushes, successes.. and failures. All of this is presented in a funny and inviting way with exaggurated sketches. 
Written by the popular American author, Jeff Kinney, this is something not to miss out.
Dog Days
I
t's Greg's summer vacation and Greg just wants to spend it with video games - and sleep. But his mom wants a more social holiday - which Greg and Rodrick do not appreciate. Greg deals with a high-school crush, horror-movie nights, bad comic strips - I think you got the idea..
Not my favourite book, but still, if you want to catch up with Greg's life, this is the book for you.
Rating:






Hard Luck
Greg and Rowley are now spending less and less time with each other — Rowley has got a girlfriend and hangs out with her all the time. Greg feels a bit left out — and as a result, he tries to bud up with Fregley. Then, he finds a Magic 8 Ball that helps him find out lots of stuff that he never knew.
Every Wimpy Kid Diary, we get a bit more information about Greg's past life. And in this book, we get a ton of it! We learn about Tickles, the stuffed animal, Squirm the worm, and the lovely Body Blankie.
Greg joins a photography club and becomes the yearbook photographer.
I found the book quite good, compared to the other books of the series.
Rating: